CBN Grinding Wheel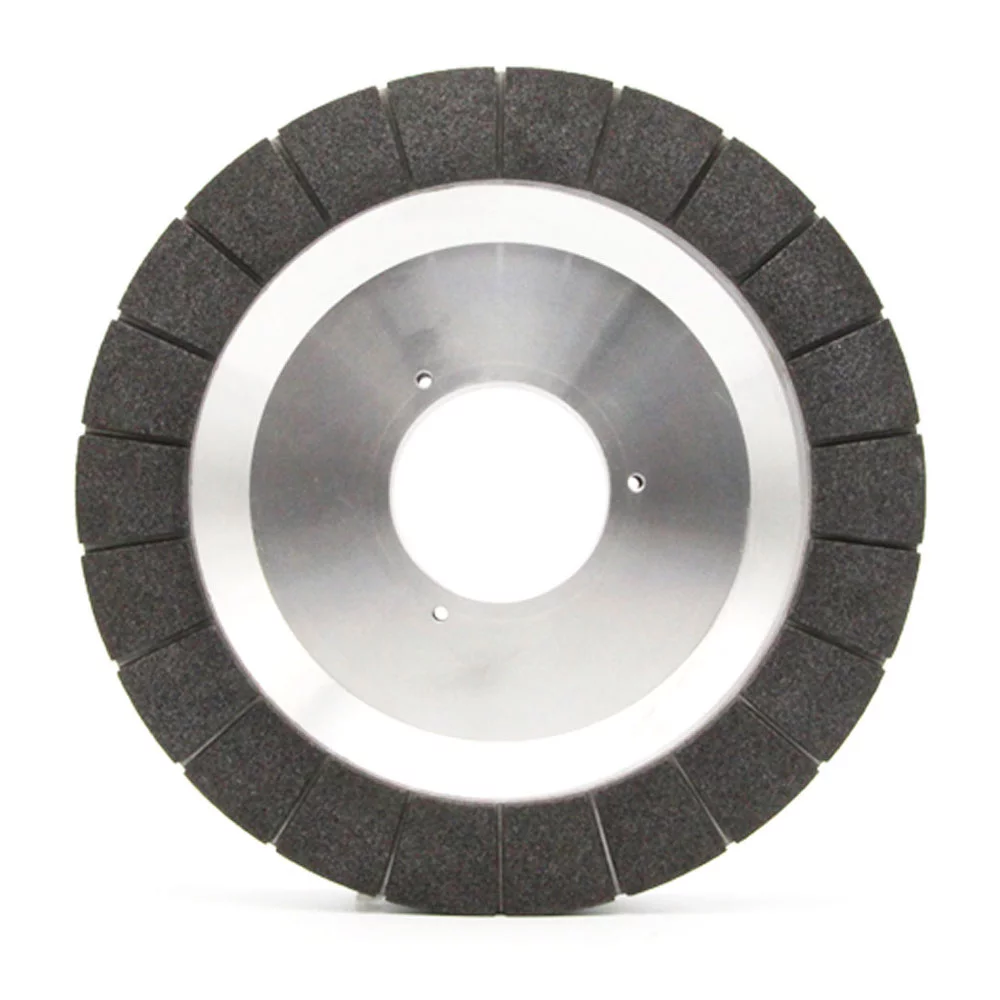 CBN grinding wheel is a tool that features high chemical resistance and thermal stability, making it fit for grinding hard-ferrous materials, bearing steel, hardened steel, nickel-based alloys, etc. These wheels offer mechanists the needed precision and speed for perfect grinding results. With this grinding wheel, users will enjoy strong material removal rates with minor thermal damage to the work piece.

Detailed Description of CBN Grinding Wheel
CBN grinding wheel is used to cut, sharpen, or get rid of metal from hard surfaces. This grinding wheel is an excellent choice when seeking a flawless, consistent finish.
Generally, CBN wheels are most notably used to cut HSS metals, such as blades, wood tools, cutters, and bits.  They are far better when compared with the older high-carbon steel due to how they can impressively withstand higher temperatures. CBN wheels are perfect for bringing back tools that have turned dull over time (to their sharp state).
Moreover, the name cubic Boron Nitride is from its chemical makeup (the cubic form of boron nitride). Users find it preferable based on how it's suitable for difficult-to-grind (DTG) materials. CBN is characterized by extreme hardness, strength, abrasion resistance, chemical resistance, and superior thermal.
Application of CBN Grinding Wheel
CBN wheels are known to overpower diamond super abrasive wheels when applied correctly. In any super abrasive wheel, hardness is a crucial property. Nonetheless, a diamond loses its hardness when placed under high temperatures while grinding ferrous materials. However, Cubic Boron Nitride does not experience hardness loss at a high-temperature range, making it more suitable for the grinding process.
Grinding Applications
The following are the grinding applications of CBN wheels (but not limited to):
Surgical knives
Fuel injectors
Compressor parts
Cutting tools
Note: This grinding wheel is also used by Jewelers for jewelry making. It is ideal for cutting glass, metals, and even diamonds accurately.
Industries
Some industries rely on precision instruments heavily for the purpose of high-performance and safety. Such industries may need the fine-tuning offered by the grinding process for various instruments. Check below to see some top industries that rely on this grinding wheel for effectiveness, efficiency, and success.
Aerospace
Automotive
Composites
Power generation and wind turbines
Tool & die
Oil and gas
Mining
Sharpening
Military
Dental
Semiconductor slicing & dicing
Paper Converting Wheels
Materials
These top industries use some materials in their processes to enhance their production, manufacturing, and results. These materials include:
Ceramics
Zirconia aluminum oxide
Tungsten Carbide
Powdered metals
Composites
Ferrites
Titanium graphite composite
How to Use CBN Grinding Wheels
Like other grinding wheels, you can easily install CBN grinding wheels on a grinder and let it spin at a recommended rate. The manufacturer recommends how fast the wheel should be, which must be duly followed.
These wheels are used to cut metals, sharpen tools, or grind ferrous metals, such as steel, cast iron, stainless steel, or carbon steel.
Caring for New CBN Grinding Wheel
Users won't need to clean or maintain a new CBN grinding wheel if appropriately used. The wheel only supports the use of ferrous metals. Mild or soft materials can clog pores, making the wheel loaded and unusable. If your wheel becomes loaded, the dressing stick will help open it up.
Advantages of CBN Grinding Wheels
CBN grinding wheels come with several benefits for users. These include:
They are perfect for grinding hardened alloys: These wheels are popular in several industries and known as the best type for grinding hard ferrous materials (such as hardened alloys) because they don't generate high temperatures due to how CBN can significantly conduct temperature. The shape of the wheel's metal body helps the heat generated to disperse quickly.
They are characterized by excellent performance:  Users of these wheels enjoy their long working life and how they remove stocks at an incredible rate. The grinding wheels offer the maximum amount of material removal from a work piece, meaning that the operator won't need dressing or shaping the work piece. CBN grinding wheels ensure low heat and precise shape.
They have long service life: These grinding wheels come with an extremely long lifespan if properly cared for. The wheels are strong due to the bonding between the grains and the supporting steel hub.
Features of CBN Grinding Wheel
One of the prominent features of CBN grinding wheels is that when used against high temperatures and hard surfaces, they feature longer life compared to other wheels, without excluding diamond. The wheels are ideal for grinding ferrous materials characterized by a hardness above 42 Rc. With them, users can easily have the results they need.
Other essential features include:
They are safer when compared with conventional grit wheels.
They support both wet and dry grinding.
They create minimal dust when compared to grit wheels. Nonetheless, when grinding, it's always recommended to exhaust ventilation.
Minimal heat is transferred to the work piece when used correctly and with coolant.
Bond Types of CBN Grinding wheels
CBN grinding wheels come in different bond types. They include
·Resin Bond CBN Grinding Wheel
Resin bond CBN wheels are used for grinding hardened steel, ceramics, ruby, optical glass, PCBN, PCD, and many other materials. They are ideal for several grinding applications (but not limited to), including knife sharpening, saw sharpening, tool and cutter grinding, centerless grinding, OD grinding, ID grinding, slot grinding, and electrochemical grinding.
They offer several benefits, including high grinding efficiency, increased wear resistance, heat resistance, dry and wet grinding capabilities, and self-sharpening capabilities.
The two types of resin are phenolic and polyimide resins. Phenolic resins are for wet and dry grinding, centerless grinding, off-hand grinding, and general-purpose tool room use. Polyimide resins provide better performance than phenolic resins. They feature better form holding, more significant stock removal, higher temperature tolerance, and little to no wear.
·Vitrified Bond CBN Grinding Wheel
Vitrified bond CBN grinding wheel is a reliable bond type ideal for grinding hardened steel and super alloys. They are used in several industries in manufacturing powertrain, bearing, turbine, cutting tools. Its focused applications include cylindrical ID grinding, cylindrical OD grinding, and surface grinding.
It's a highly aggressive and free-cutting wheel with optimal tool life. It doesn't need much dress but provides longer truing intervals compared to a resin bond wheel. Vitrified bond CBN grinding wheel is for cool cutting and ideal for light out high production grinding, particularly in manufacturing environments.
This bond type can last longer for about 100 to 300 times compared to other non-CBN grinding wheels. Besides, it removes heat during the grinding process and adapts to different spindle speeds.
·Electroplated Bond CBN Grinding Wheel
Electroplated bond CBN Grinding Wheels are designed in various shapes, making them perfect with a complex profile. They are used for machining tool steel, mold steel, HSS, stainless steel, titanium alloy, and so on. The bond type feature non-truing and dressing, free-faster cutting, and less heating (because of the diamond particles that are protruded from the surface).
CBN Wheels and High-Speed Grinding: The Needed Perfection
CBN grinding wheels are perfect for high-speed grinding in ferrous metals. With high-speed grinding, high temperatures in the grinding zone can be created, making the super abrasive particles heat.
Compared to diamond, CBN features a higher thermal resistance. It becomes harder than diamond at temperatures above 800 degrees, and it can keep up the cutting edge well to about 1000 degrees. Also, the wheels' thermal conductivity is 4.5 times better than copper, which makes it diamond's close rival.
What makes the wheels better than conventional and diamond grinding wheels in some particular materials is the resistance and strength to thermal attack as they maintain the sharp cutting edges when being used.
The Limitations of CBN Wheels
Although CBN wheels do not have many limitations, their performance can be affected if not used properly.  So, users must avoid using the wheels to grind anything different from ferrous metals such as steel, cast iron, carbon steel, or stainless steel.
Moreso, users must ensure that they don't use non-ferrous metals (zinc, copper, aluminum, and tin) with the wheels. This is because these metals are too soft and can clog the wheel, stopping its grinding power.
Furthermore, it should be noted that the factor that can really limit the wheels is if the bonding agent breaks down. If the bonding layer separates from the metal core, it can reduce the wheels' lifespan faster compared to when the cutting surface wears down.
Summary
CBN grinding wheel features high chemical resistance and thermal stability, making it perfect for grinding hard-ferrous materials, bearing steel, hardened steel, nickel-based alloys, etc. It is widely applied in several fields of industry such as aerospace, automotive, composites, power generation and wind turbines, tool & die, oil and gas, mining, etc.
It has numerous features, advantages, and bond types (including resin, vitrified, and electroplated bonds). Users will find the wheel tremendously helpful if they follow the correct way to be used.
More customized grinding wheels are available, contact us.
[wpforms id="4612″]