SG GRINDING WHEEL
Short Description:
SG Grinding Wheel is a high-quality abrasive prepared by a sol-gel method which is also considered as a sintered abrasive. It is a high purity abrasive with a submicron crystalline structure from a seeded gel sintering process. Compared to other grinding wheels, this SG grinding wheel has a ceramic abrasive which 5-10 times more durable and wear-resistant because of its corundum particles. This super durable tool is the best choice for precision grinding for unhardened and hardened steels like cast iron, carbon steels, alloy steels, tool steels, and many more.
Features of SG Grinding Wheel:
Multi-Usage. This grinding wheel is built for multi-usage applications and is very helpful in solving problems when it comes to grinding burn.
High-Durability. Compared to other grinding wheels, this tool is 10 times more durable and can provide longer service life.
High-Quality Structure. This grinding wheel has sharp grains, good cutting ability, a microcrystalline structure, and high grinding efficiency applicable on various workpieces.
High Removal Rate. It also has a high removal rate with its precise cutting control. With its super hardness, strength, and fracture toughness, it provides high durability and removal rate in various applications.
Low Possibility of Workpiece Burn. With its high functional grinding control, this grinding wheel can guarantee a low possibility of a burnt workpiece, thus, it increases quality and quantity in the production process.

Detailed Description of SG Grinding Wheel
Product Specifications
Sol-Gel grinding wheel is a sintered abrasive tool with a tiny grain size of 100 – 500 mm and ceramic aluminum oxide abrasive plus a submicron crystalline made from seeded gel sintering process. These high-quality grinding tools come on various product specifications, i.e., sizes, shapes, grit. Special customization is also available for specific needs and requirements.
Main chemical composition

(Typical value)

Physical properties

(Grain size 60)

Available grain size
code
Al2O3 (99.22%)

Na2O (0.08%)

Density: 3.90(g/cm³)

Bulk density: 1.82(g/cm³)

Crystal size: 0.15 (μm)

24-180#
s
Here's a more concise product specification:
| | | | | | | |
| --- | --- | --- | --- | --- | --- | --- |
| Thickness (mm) | Outer Diameter (Φmm) | Outer Diameter (mm) | Hole Diameter (Φmm) | Maximum Peripheral Speed (m/s) | Abrasive Grain Size | Hardness |
| 50 | 510 | 510 | 127 | 40 | 46 | H |
| 50 | 510 | 510 | 127 | 40 | 60 | H |
| 25 | 355 | 355 | 127 | 33 | 60 | J |
| 25 | 355 | 355 | 127 | 33 | 80 | J |
| 38 | 355 | 355 | 127 | 33 | 46 | G |
| 38 | 355 | 355 | 127 | 33 | 46 | H |
| 38 | 355 | 355 | 127 | 33 | 46 | I |
| 38 | 355 | 355 | 127 | 33 | 46 | J |
| 38 | 355 | 355 | 127 | 33 | 60 | G |
| 38 | 355 | 355 | 127 | 40 | 60 | H |
Applications of SG Grinding Wheel
SG grinding wheel is highly applicable for precision grinding specifically on hardened and unhardened steels like cast iron, alloy steels, carbon steels, tool steels, and many more. There are more works that can utilize SG grinding wheel. Here are some of it. Check it out.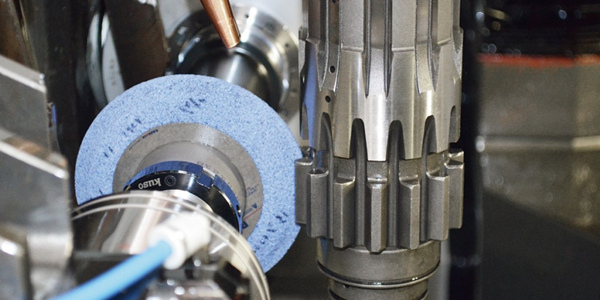 It can be used for the internal grinding processes on roller bearings, cylinders, compressor parts, gear parts, hydraulic and pneumatic cylinders, and a lot more.
Also, it can be applied for worm gear grinding especially on grinding crankshaft and camshaft of the engine and transmission of the car.
Higher applications are done in the gear industry and toolroom environment where grinding of hardened materials is quite common.
SG grinding wheel can be combined with applied together with a cluster diamond dresser that has a faster dresser. This is to maximize the open points of the ceramic grain.
It can also be partnered with a slow dresser or a single-point diamond. This will help in closing off the wheel and create a better surface finish in any workpiece.
This grinding tool is used for vessel manufacturing and other castings. It can also be applied for various kinds of welding seam polishing which is quite flexible, convenient, efficient, and economical.
When it comes to machinery, it is more suitable to use with a CNC machine.
Here's a more specified product application of the SG grinding wheel.
Markets
Materials
Machines
Applications
· Home Improvement

· Paint & Drywall

· Collision Repair

· Manufacturing & Industry

· Metal Fabrication/Welding

· Medical Industry

· Transportation

· Energy & Environment

· 400 Series Stainless

· Hard Carbon Steels

· Tool Steels

· Titanium

· Super Alloys

· Cast Iron

· Ductile Iron

· Gray Iron

· CNC Cutting Tool Machine

· Tool and Cutter Machine

· Stock Removal

· Surface Grinding

· Tool and Cutter Grinding

· Tool Sharpening
Advantages of SG Grinding Wheel
This highly durable grinding tool has more benefits and advantages in various fields of work, applications, machinery, and industries. Here are some of the advantages of using the SG grinding wheel in grinding works.
This grinding wheel has a polycrystalline alumina abrasive grain where its crystalline structure is the main ingredient for fine crushing and falling off of every fine crystal during the grinding process. This is the reason why the cutting edge of the abrasive grain will be hard to flatten and will foster good sharpness for a very long time.
Like some grinding wheels, it is also characterized by its long service life, high durability, good self-sharp ability, high cutting efficiency, and low possibility of the burnt workpiece.
It also has a higher removal rate, faster-cutting speeds, and can clearly reduce friction at a very low pressure which will also lessen fatigue on the operator.
It can provide a high-performance bond for versatility on high=speed grinding such as tool steels, hardened and soft steels, and aerospace alloys. It also has exceptional form holding.
This tool has a self-sharpening abrasive that minimizes burn and dressing. This is a good thing to maximize sharp edge on tools for longer product life.
This tool is the most preferred choice for high productivity works. Plus, it guarantees a low total grinding cost per part, especially on CNC cutting tools and cutter machines.
It has two times (2x) rough stock removal rate compared to conventional abrasives and three to five times guaranteed service life compared to aluminum oxide wheels.
Another good thing about is its efficient dresser which is very suitable for the production of various kinds of wire rollers. This will replace CBN grinding wheel as it only takes 7 hours for the operator to grind a wire roller.
Special Characteristic of SG Grinding Wheel:
It is made up of ceramic abrasive that has the good self-sharp ability and low probability of plug that will keep the stability of the grinding work. This will also reduce the amount of correction and number of amendments in order to improve product efficiency.
The ceramic abrasive particles provide good toughness, low abrasion, and good grinding wheel shape retention that is mainly used for precision and shaping grinding. And because of this, it will be easier to achieve dimensional accuracy.
You can expect low-frequency grinding wheel replacement that will reduce auxiliary processing and downtime.
You won't need special grinding equipment and a correction device.
SG grinding wheel is much more advantageous and highly recommended for grinding works with its wide range of applications, features, and benefits. We hope that this short content will guide you in purchasing the best grinding tool.
More customized grinding wheels are available, contact us.
[wpforms id="4612″]