Resin Bond Diamond Mounted Point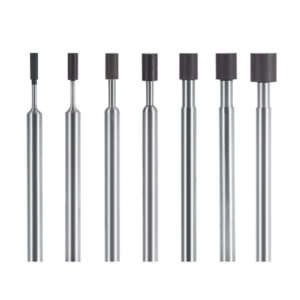 Short Description:
Resin bond diamond mounted point is an abrasive tool used for fast stock removal which lasts longer for about four times compared to conventional aluminum oxide mounted points. This makes it a very efficient tool as its increases productivity and clearly cleans more parts in less time. This mounted point is mainly used for machining tungsten carbide cutting tools, optical glass, gem, semi-conductor materials, non-ferrous materials, ceramic, magnetic materials, silicon, glass, quartz, thermal spraying alloy, and non-metallic material grinding.

Features of Resin Bond Diamond Mounted Points:
Highly durable. Has strong grain and specially formulated organic bond that provides four times greater life compared to aluminum oxide points even while reducing vibration and wheel chatter. It has its own cool grinding properties that reduce the thermal load on any workpiece.
High removal rates. This is very ideal for removing parting lines, fins, and small risers which come from castings, smoothing, and blending of welded areas. This tool is perfect for heavy-duty edge grinding on stainless steel.
Sharp cutting. This abrasive tool has two times or a 35% faster-cut rate compared to standard aluminum oxide. It has aggressive, free cut, and can clean more parts in just a short time certainly increasing productivity.
Best choice tool. Preferable choice of tool for fast stock removal and long life on steels, superalloys, irons, and other metals and materials. It has high-edge holding capability, long service life, and low wear.
High grinding efficiency. This mounted point has high grinding efficiency and can be used for deburring and tool sharpening. With its special edge holding property, this tool can be applied for low RPM power tools.
Detailed Descriptions of Resin Bond Diamond Mounted Points
Resin bond diamond mounted points are excellent tools for grinding small areas with diamond smoothing tools for making a clear polished surface finish. This tool has a unique quality that is recommendable for stone carving, cleaning up work, glass, ceramic, and metal.
Product Specification of Resin Bond Diamond Mounted Points
This mounting point is a specially formulated organic bond that comes on various sizes, grit levels, bond hardness, shapes, and has lightweight features. Here is a popular product specification of resin bond diamond mounted point that you can check on the market. Specialized or customized shapes and sizes can be done according to the client's requirement and application.
Product Name
Bond
Abrasive Grain
Grit
Shape
Dimensions
Head Diameter (D)
Head Thickness (T)
Shank Diameter (d)
Total Length (L)
Resin bond Diamond Mounted Point
Resin
Diamond
50 #

100 #

150 #

200 #

400 #

800 #

1500 #

3000 #

Cylindrical with a shank
4 mm
15 mm
3 mm
45 mm
Here's another detailed product specification of resin bond diamond mounted point according to its application (light deburring, medium to heavy stock removal, offhand applications)
Application
Length (L)
Diameter (D)
Shank Diameter (d)
Type
MAX RPM
For Light Deburring Application
3/4″
3/8″
1/4″
B52
45370
For Medium to Heavy Stock Removal
1-1/4″
3/8″
1/4″
W179
45750
3/4″
3/4″
1/4″
W204
42750
2″
3/4″
1/4″
W208
18750
1″
1″
1/4″
W220
25500
2″
1″
1/4″
W222
15900
1/2″
1-1/2″
1/4″
W236
25470
For Offhand Applications
1-1/8″
3/4″
1/4″
A5
45000
2-1/2″
3/4″
1/4″
A1
19800
2″
7/8″
1/4″
A11
19860
1″
1″
1/4″
A38
34500
2-3/4″
1″
1/4″
A3
16100
1-1/4″
1-1/4″
1/4″
A4
30560
Suitable Materials:
Stainless steels
semi-conductor metals
carbon steels
tool steels
titanium
superalloys
cast iron
ductile iron
Applications of Resin Bond Diamond Mounted Points
Resin bond diamond mounted points has a wide variety of applications on various workpiece, machines, markets, and materials. It is used under less pressure, aggressive stock removal, or light blending including stainless steel. Here are some of its applications in these fields which are designed to meet an array of requirements for use in surface and edge grinding.
Use for deburring, grinding, tool polishing, and sharpening of bearings, molds, deep holes of casting parts, inner walls of profiled surfaces, solder joints, welds, special surfaces like inner circles, rounded corners, grooves, arcs, and cones.
Use for chamfering of stainless-steel shapes in preparation for welding. It can also be applied for dressing fillet welds on high-grade steel components.
Applicable on various materials like semi-conductor metals, stainless steel, carbon steels, tool steels, titanium, superalloys, cast iron, ductile iron, and many more.
This tool can be applied on various machines like die grinder, flexible shaft grinder, inline grinder, pencil grinder, power drill, and many more. It is installed on electric tools such as electric bills.
With its wide variety of applications, certainly it is very useful in various markets like home improvement, paint & drywall, collision repair, manufacturing & industry, metal fabrication or welding, medical industry, and transportation industry.
For operation processing, it is applied on stainless steel, finishing castings, and deburring cut metal, tool, and die precision engineering work.
Industrial fields where you can use resin bond diamond mounted points include aerospace, tool and die, construction, metal fabrication, automotive, cutlery, mold shops, stainless steel equipment, and foundries. Ideal and suitable for vending machines, pegboards, small jobs, and carrying to the job sites.
Benefits of Resin Bond Diamond Mounted Point
Resin bond diamond mounted points also have their benefits and essentialities different from other mounted points. This is a small grinding tool with a handle and is sintered by a ceramic binder. This tool has high-quality abrasives and shafts. Here are some of its benefits that you can look into.
Compared to other types of mounted points, this resin bond mounted point is highly durable, with high hardness, and not easily worn out.
It has good wear resistance and grinding performance because of its installed electric tools. It has strong resistance and grinding force which contributes a lot to the grinding and deburring of various materials.
This product has high bonding strength and good coaxiality which is the prime requirement for hard material processing.
The head of the mounted point is used in precision grinding technology, burr cleaning, and edge grinding seam treatment. This tool provides high stock removal rates, high edge holding, dimensional stability, and cool grinding which reduces the thermal load on any workpiece.
There is a range of shank extensions available. This is one way of working on hard-to-reach. Resin bond diamond mounted points are a low-cost alternative to carbide burs where each point is dressed for perfect balance to perform without vibration or run-out.
Installation or Utilization Tips for Resin Bond Diamond Mounted Points
To keep the tool from running smoothly for a longer period of time and secure the safety of the operator during the work process, remember these installation or utilization tips.
Resin bond mounted point application needs perfect balance in terms of chip performance, intended surface finish, and service life.
For getting the hard-to-reach parts on any workpiece, apply the resin bond diamond mounted point on a straight grinder and flexible shafts. This way, it will continuously improve the surface. This can be done on foundries and mold forming operations.
For best-mounted point performance, you have to always run the mounted point according to its maximum allowable speed. Too much speed might damage the material or workpiece and will definitely wear out the tool.
You may refer to the speed of the mounted point according to the ANSI B.7 speed chart included in each shipment for proper operating speeds. Use "A" shapes for medium to heavy-duty blending. "B" shapes are used for light deburring, finishing, and polishing. Lastly, "W" shapes are used for offhand and precision grinding of medium to heavy stock.
You may use 36 grit levels and coarser for rough grinding. If it is for imparting fine finishes or when grinding on narrow surfaces, you can use 60 and 90 grit levels.
You may also use spindle extension to increase the shank length of mounted points which makes it easier to work on the hard-to-reach area like the inner parts of the pipes and ducts. The extensions are built into the collet of the machine or inserted into a flexible shaft handpiece.
For the rotational speed (RPM), you may look at the recommended peripheral speeds stated in the introductory descriptions depending on various hardness grades.
Since the use of these mounted points may create dust and other particles, the operator should wear appropriate protective measures including a respirator. For safety purposes, the operator should always observe to wear eye protection, hearing protection, dust respirators, and gloves. Read the instructions and safety data sheets before applying them to various materials.
Resin bond diamond mounted point has a wide variety of applications, benefits, and advantages. What makes it different from other mounted points is its high durability and high grinding efficiency which cleans or polishes more key parts in just a short period of time. This makes it a very convenient tool for mass production in various industries.
Need more customized mounted points, feel free to contact us.
[wpforms id="4612″]