Vitrified CBN Mounted Points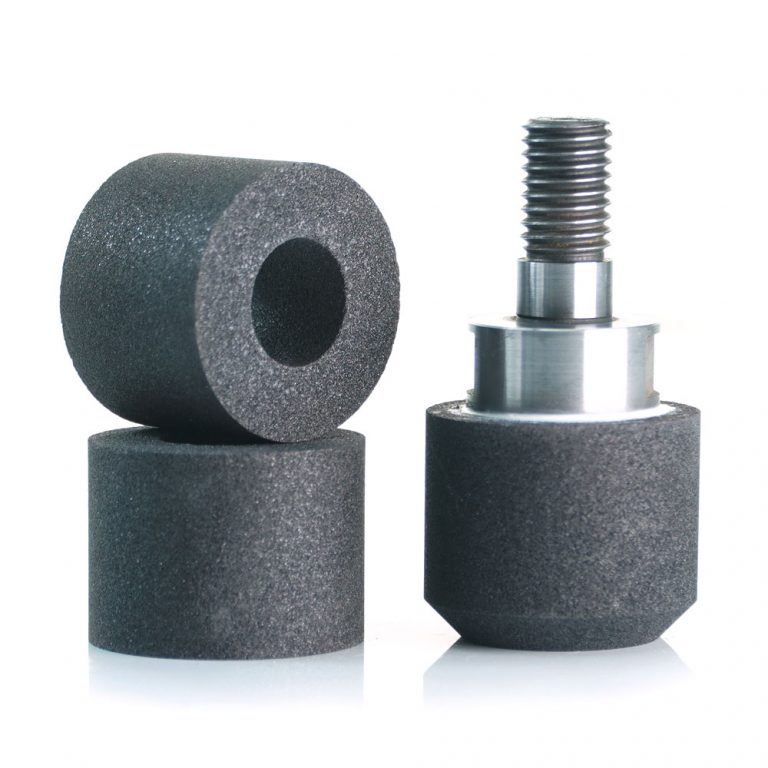 Short Description:
Vitrified CBN Mounted Points are very ideal tools for small machining, job applications, and high-volume foundry operations. This type of mounted point is mainly used for steering pump, compressor, bearing races, injection nozzles, hydraulic lifter, gear bores, and many more. Vitrified CBN mounted points are composed of carbide boron nitride abrasive grain with a vitrified bond type which can process materials like high-speed steels, high carbon, high chrome steels, tool & die steels, cast iron, and other materials.
Features of Vitrified CBN Mounted Points:
High metal rate removal. These mounted points will give you a cool cut with less burn and up to 30% higher metal removal rates.
High-quality features. With similar features of aluminum oxide and is considered as one type of super abrasives materials which is ideal for high grinding process on hard and rough materials.
Longer service life. CBN Mounted points is a wear-resistant tool and can maintain long service life. It is a less heat-generated tool that prevents it from getting worn out.
High grinding efficiency. It has the best performance in terms of cutting, grinding, and processing material with its high workpiece precision characteristics.
Good workpiece consistency. This mounted point can maintain a good cut and shape on any material.
Detailed Description of Vitrified CBN Mounted Points
When it comes to grinding high hardness and toughness metal material like hardened steel, bearing steel, high-speed steel, stainless steel, heat resistant steel, and titanium alloy, CBN tools like this Vitrified CBN mounted point is the best tool to use. Not that it only wear resistance and can extend longer service life, it also has thermal stability which makes it less heat generated and will prevent burns in the material.
Product Specification of Vitrified CBN Mounted Points:
Vitrified CBN mounted points have a single layer of abrasive with a nickel alloy matrix and exposed particles. Its mandrels are made of high-speed tool steel and there is a variety of tools and grit sizes available in stocks.
Here are some popular specifications of Vitrified CBN Mounted Points available in the market. Special customized sizes and shapes can be done according to the clients' requirements and applications. Grit sizes are standard in the table. More grit sizes are available upon clients' request.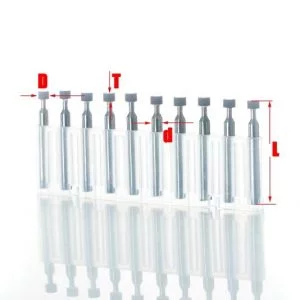 Item Name
Abrasive Grain
Bond
Head Diameter (D)
Head Thickness (T)
Shank Diameter (d)
Total Length (L)
Grit
Vitrified CBN Mounted Points
CBN (Carbide Boron Nitride)
Vitrified
3 mm

4 mm

5 mm

6 mm

8 mm

10 mm

12 mm

3 mm
3 mm
25 mm or customized
100 #

120 #

150 #

180 #

200 #

240 #

320 #

400 #

600 #

800 #

1000 #
Here's a more detailed specification:
Shape code
Diameter (mm)
Arbor Hole(mm)
Height(mm)
  1A8
4
1.5
5
  1A8
6
2
8
  1A8
12
4
8
  1A8
20
6.8
10
  1A8
25
8.13
20
  1A8
30
10
15
  1A8
35
12.15
12
  1A8
40
15
15
  1A8
40
15
25
  1A8
45
30
50
Special Features of Vitrified CBN Mounted Points
For various types of CBN tools, Vitrified CBN mounted points provide excellent quality in terms of concentration/grit, shank, and dressing.
Concentration or Grit

The grit concentration varies considerably depending on the application done. It denotes the volume of ultrahard abrasive grain applied in the tool. This is a very important feature since it determines the effectiveness of the grinding.

Shank

For Vitrified CBN mounted points, a tungsten carbide shank is supplied. The carbide material provides greater elasticity which is three times greater than steel materials. With this, the deflection of the tools which is a result of grinding pressure is kept to a minimum. Here are some advantages of a tungsten carbide shank:
It reduces the spark out time which means a shorter grinding cycle.
It considerably improves the tool's life.
It reduces tooling and setting costs.
It improves the surface finish of the workpiece.
It provides an improvement in workpiece geometry.
Dressing

This mounted point has quality dressing to achieve geometrical accuracy and to prevent the abrasive grain from getting dull. It also frees up the surface from loading and maintains a free cutting tool. Vitrified CBN mounted points should be dressed wet using ample coolant substance. There are various dressing methods used which depend on the hardness of the tool.
Suitable Materials for Vitrified CBN Mounted Points:
Steel
stainless steel
ultra-hard steel
reverted steel
aluminum alloy
magnesium alloy
titanium alloy
dental mold/resin grinder
glass and stone
Applications of Vitrified CBN Mounted Points
Vitrified CBN Mounted Points are super abrasive types that offer high accuracy for internal cylindrical grinding application which is highly recommended for grinding hardened tool steels and aerospace alloys. More of its application are following:
Applied for internal grinding, tool and cutter grinding, tool sharpening, stock removal, and deburring.
For steering pump, hydraulic lifter, gear bores, compressor, injection nozzles, bearing races, and many more.
Also used for jig grinding and internal grinding of high-speed steel and hardened alloy steel through wet grinding.
These CBN mounted points can be partnered and applied in the auto industry, bearing industry, aerospace industry, CBN grinding wheel, and vitrified bond grinding wheels.
For ceramic parts on semiconductor manufacturing equipment.
For automobile powertrain parts like the parts of fuel injection pumps, steering parts, etc.
Applied on aspheric lens molds, bearings, and precision gears.
For bearings specifically miniature ball bearings.
It is also used to create turbine blades for aircraft engines and power generators.
For automobiles specifically for turbochargers, general steel materials, and casting deburring.
Benefits of Vitrified CBN Mounted Points
Vitrified CBN Mounted Points has superior dressing ability and is suitable for mass precision production internal grinding. It has uniform vent holes that create stable sharpness and last longer due to its high grain retention. That is just one of the so many benefits and features of this mounted point tool. To make you more acquainted with its features, here are some benefits you can take note of.
These mounted points are the best option for high volume, coarse grit, rapid metal removal, and surface prep applications with their tough and durable bond feature.
It is very much versatile with its optimization for all low to medium and high force vitrified applications.
It has a unique, engineered ceramic grain and shape which is designed to specifically develop for high volume and high-speed alloy grinding operations.
It provides a 33% longer service life and 37% better metal removal rates compared to other mounted points with minimal loading and heat build-up.
It has excellent form-holding compared to other mounted points which contribute to creating good workpiece consistency and maintaining good cutting or grinding shapes on various materials.
It is the best choice for small job shops with cool cutting performance and less burn feature. It can even withstand operating pressure and satisfies most tools and die for deburring requirements.
This mounted point can polish any coarse surface quickly and precisely.
Technical and Storing Tips for Vitrified CBN Mounted Points
To fully secure the safety of the operator and keep the tool from running efficiently, here are some tips you can take note of when using this mounted point.
Technical Tips:
When you are using the tool for a faster grinding process, you can choose a medium to rougher grain size and grit level so you can meet the needed requirement and special usage. Just be careful not to get the surface too rough at the same time.
To achieve faster grinding and finer grit, try to apply two or three grit as a group. You may use rough grit first in the grinding process, then followed by a finer grit.
Safe Storing Tips:
To secure the tool and prevent it from getting worn out, make sure that you are storing it in a dry and spacious place. Make sure to keep it in a 10-30 degrees temperature and a highly ventilated condition. This is a big factor in decreasing density on the mounted points which prevents more damage.
Use a shelf in arranging the mounted points. To keep your tools from accident incidents, placed the heavier mounted points at the bottom of the shelf, while the smaller and lighter mounted points should be placed at the top and middle part of the shelf. Organized the mounted points in their safest position to avoid distortion.
For easy and accessible working, store your mounted points in a place that is easy to go in and will not create chaos on your other things. Place them in a more spacious and accessible area where you can roam around and do your work.
Vitrified CBN Mounted points have various applications which contribute a lot to grinding, polishing, dressing, and deburring fields. Not only that, we can really see that these mounting points are suitable for various hard metals and rough materials like steel and alloys. There are also various shapes and sizes available which can be customized depending on the client's request and requirement. To know more about mounting points, you can visit this link
More customized specifications are available, contact us.
[wpforms id="4612″]
However, you also might be interested in Diamond Countersink bits Sintered mounted points for glass